External Hard Drive Review: LaCie External Hard Drives

I have been repeatedly asked to write an external hard drive review on what I believe to be the best hard drive currently on the market. Usually this question is followed up by noting that it also needs to be cost effective and reliable. I have used a variety of external storage solutions from a variety of brands and I always come back to LaCie. I have used a variety of their products and found them always to be reliable, long lasting and cost effective. My experiences with Western Digital and G-Technology have been less positive. I once lost my whole backed-up archive using a G-Technology drive within six months of owning it. Not to mention G-Technologies customer support was not all that great in comparison to my dealings with LaCie.


The current LaCie d2 Quadra
1TB External eSATA has almost every interface you would need on an external drive including eSATA 3Gbits, FireWire 800, FireWire 400, and USB 2.0. It offers universal connectivity for PC and Mac users and is ready for use. LaCie d2 Quadra
lives up the advertised transfer rate; I tested with a FireWire 800 and it ran at roughly the 800Mbits/s (100MB/s) when moving Photoshop files from my main drive on my Mac Pro to the LaCie d2 Quadra
. The LaCie d2 Quadra
cooling system is through its aluminum heat sink design keeping it nice and cool with no added noise.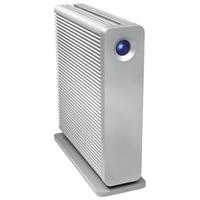 Pros: LaCie d2 Quadra
is a very quiet and reliable hard drive. I have used several over the years and this latest version in the line of d2 Quadras does not disappoint. LaCie d2 Quadra
works well with Time Machine and can be partitioned to act both as a Time Machine backup drive and as extra storage.


Cons: LaCie has recently switched from the previous LaCie d2 Quadra
power supply to a new version of the design. I  feel that the older design provides a more secure connection, but it's a minor point and only a personal preference. As far as I can tell the new design allows more reliable power at higher amperage and therefore won't burn out like its predecessor.